Core Curriculum
Coursework
The M.A. in Asian Studies (MASIA) degree consists of 36 credits. Students must complete 9 credits towards the core course requirements, 9 credits towards the concentration courses, and 18 credits of electives towards a second concentration, a certificate program, or electives. Semester-long courses are 3 credits each. Students can also take a combination of half-semester courses worth 1.5 credits each. To graduate on time, students must successfully complete 8 courses plus 2 language classes (if applicable) in their first year and 4 courses plus language class(es) in their second year. In the second year, coursework can be completed in one semester or spread out over two semesters. Most students choose to complete their coursework over two semesters.
Required Courses (9 Credits)
ASST 511 International Political Economy of Asia – This course is typically offered in the first semester of the program.
ASST 668 Theory/Policy in Asia – This course is typically offered in the first semester of the program.
One course on History, Society, Culture
Concentration Courses (9 Credits)
Students will take 3 courses from a functional or a subregional concentration:
Politics and Security of Asia
History, Society, and Culture of Asia
International Political Economy and Business of Asia
Energy, Environment, and Transnational Issues of Asia
South Asia
Southeast Asia
The program has a large focus on East Asia; therefore, we do not offer a subregional concentration on East Asia. For more information on our concentrations please visit the our "Concentrations" page.
Electives (18 Credits)
Students can complete a second concentration, a certificate program, or take electives, including an optional M.A. thesis.
Certificates are available in the following areas:
African Studies
Arab Studies
Diplomatic Studies
Eurasian, Russian, and East European Studies
Gender, Peace, and Security
Global Human Development
International Business Diplomacy
Latin American Studies
Refugees and Humanitarian Emergencies
Social Innovation and Global Development
For more information on graduate certificates, please visit the SFS Graduate Programs page.
Thesis
Students have the option of writing a Master's thesis under the supervision of a faculty member of the Asian Studies Program. The primary means by which students can pursue the thesis option is as part of the research seminar course, ASST 750 Thesis Seminar: Asian Studies (or its equivalent), usually taken in the student's second semester. Proper revision and approval of the paper for this class may be submitted in the third semester as fulfilling the thesis requirement. Students may also opt to write a thesis through an independent tutorial with a faculty mentor. If this option is exercised, students are responsible for finding a faculty member willing to undertake an independent study tutorial to advise the student; preparing a syllabus; and establishing regular meetings with the faculty member throughout the semester of research. In ASST 750 or in the independent tutorial, the thesis must achieve a B+ or better grade in order to fulfill the thesis requirement. The revised and finished thesis must be approved by the Director of Asian Studies and deposited with the Director of Academic Programs & Operations by the end of the student's third semester or earlier.
Course Mapping Options
Four Semester Schedule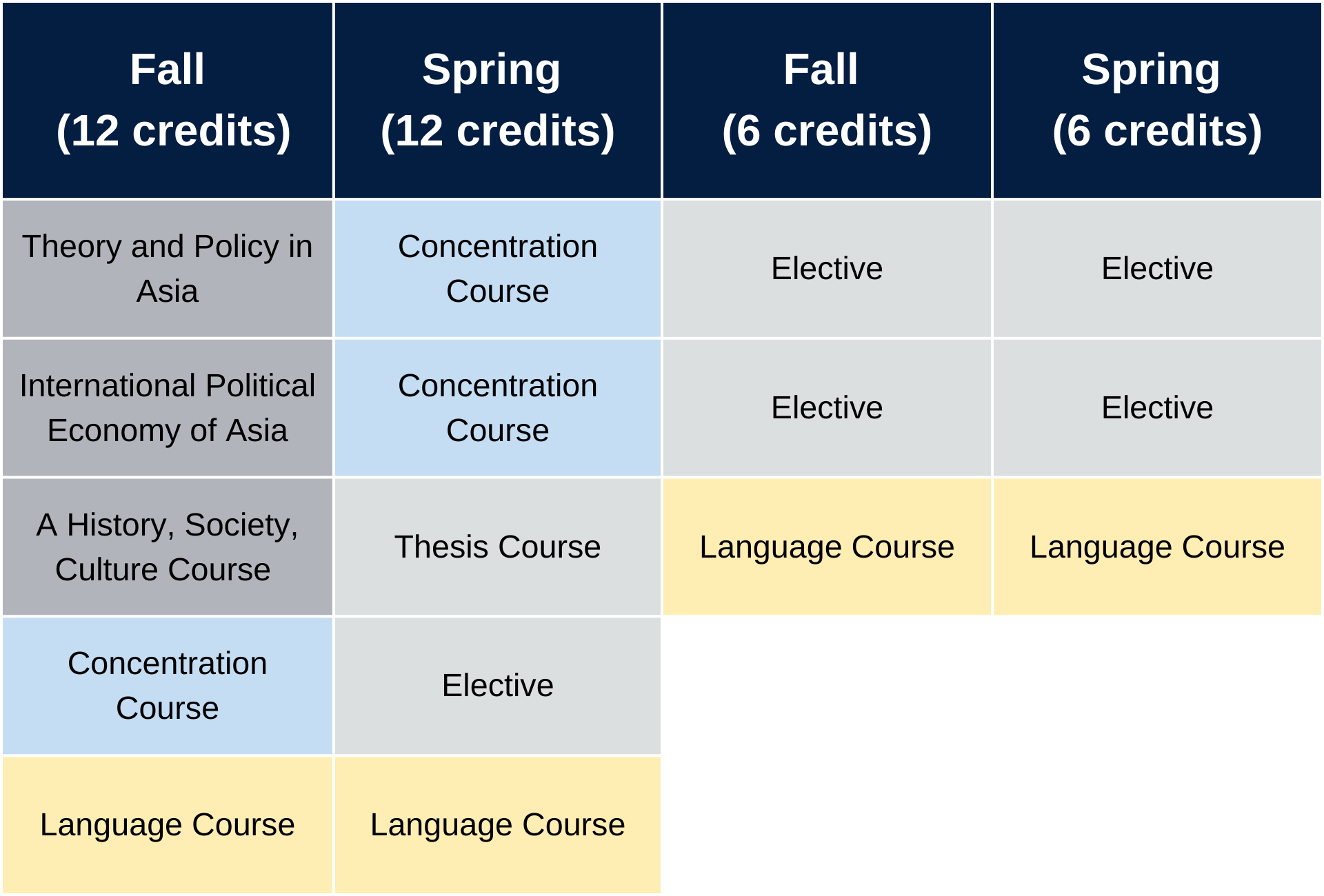 Three Semester Schedule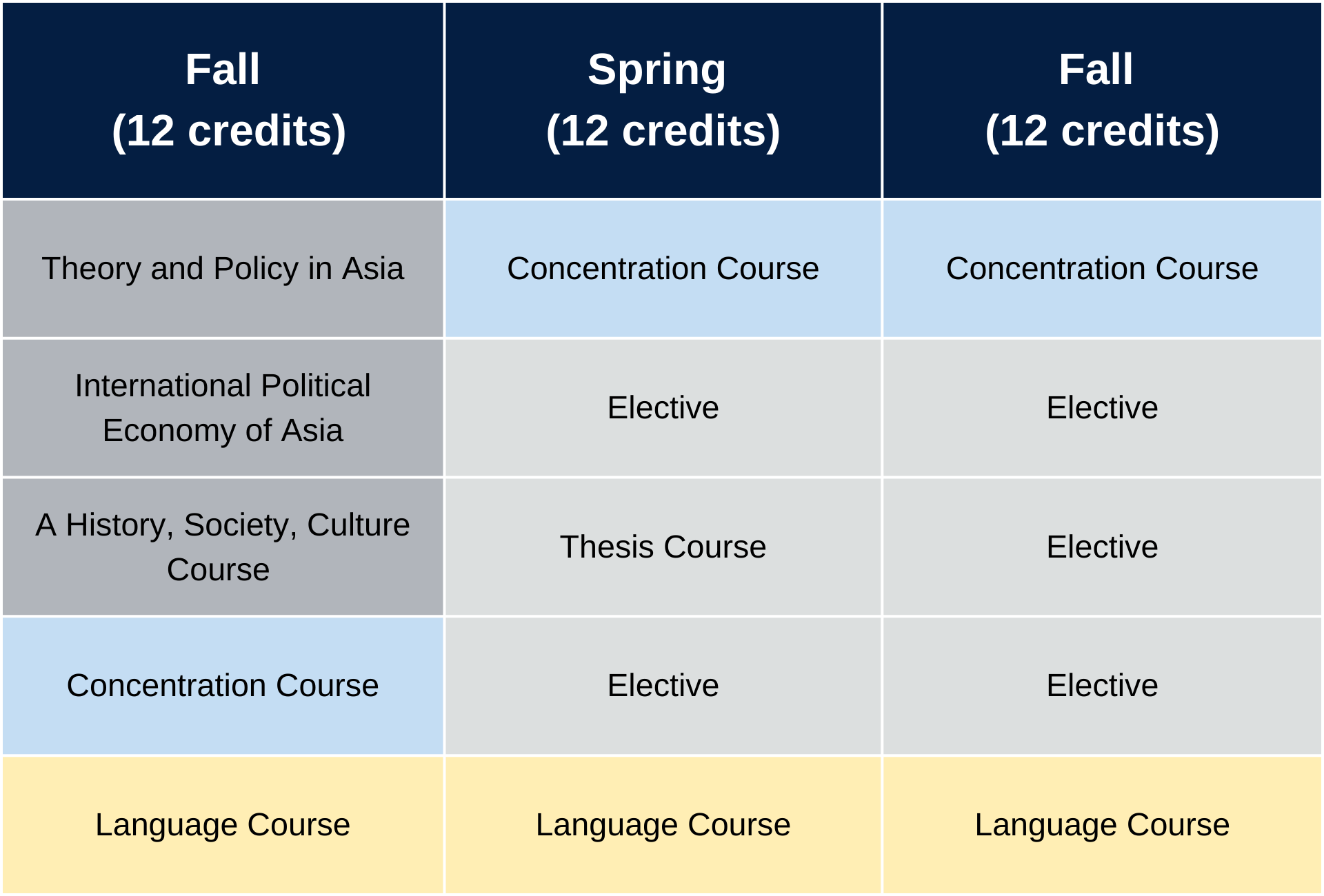 Sample Schedule
For a student pursuing a concentration in Politics and Security and a concentration in Southeast Asia.