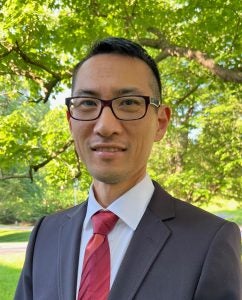 Dr. Yuhki Tajima begins his tenure as Director of Asian Studies on July 1, 2022. He succeeds long-time Director Dr. Michael Green, who is taking a leave of absence from Georgetown University to lead the United States Studies Centre (USSC) at the University of Sydney.
Dr. Yuhki Tajima is Associate Professor of Asian Studies and Political Economy in the Edmund A. Walsh School of Foreign Service at Georgetown University. He has consulted extensively for the World Bank and the United Nations Development Programme and has worked with governments in Indonesia, the Philippines, and Timor-Leste on issues of peacebuilding and development.
His research examines insurgencies, communal violence, ethnic politics, the political economy of development, criminal gangs, and smuggling with a particular focus on Southeast Asia. His current book project entitled "How Peace Prevails: Insurgent Cohesion and Fragmentation in Indonesia and the Philippines" examines the peace processes in Aceh, Indonesia and the southern Philippines to explain why some peace agreements succeed, while others fail. Other ongoing projects examine the effects of border policies on smuggling and migration, the foreign policies of ASEAN states in the South China Sea, and Japanese and US peacebuilding policies in Southeast Asia.
Dr. Tajima is the author of The Institutional Origins of Communal Violence: Indonesia's Transition from Authoritarian Rule (Cambridge University Press 2014). He has also published peer-reviewed articles in the American Political Science Review, the American Journal of Political Science, International Organization, and the Journal of Conflict Resolution, among other academic and policy outlets.
He has been a fellow of the Centre for International Security at the Hertie School in Berlin, an International Affairs Fellow at the Council on Foreign Relations, and a Guest Scholar at Kyoto University's Center for Southeast Asian Studies. He holds a PhD in Public Policy and an MPA in International Development from Harvard University and a BA in Physics from Swarthmore College.

Read his statement below.
Director's Message
The Asian Studies Program in the School of Foreign Service at Georgetown University celebrates its tenth anniversary this year. In just one decade, we have become one of the most successful regional master's programs in the country, with highly placed graduates pursuing foreign affairs careers in the public and private sectors. This is a testament to the leadership of Victor Cha and Mike Green, who set a course on how to study Asia and engage with the region by integrating rigorous scholarship with practical policy experience.

At a time when other universities in the US and abroad divested from area studies, Dr. Cha and Dr. Green saw a major need to invest in the study of Asia. Their vision was to bring scholars who have both a deep knowledge of Asia and the rigor of an academic discipline together with practitioners who have invaluable hands-on experience in the region. This mixture of theory and practice has equipped our master's and undergraduate students with the tools to understand and navigate the region, which has in turn been recognized by employers, as evidenced by our nearly 100 percent employment rate.

When I look ahead to our second decade, I see a region that only continues to grow in geopolitical and economic importance. I also see some very difficult challenges for the region in the pandemic, US-China competition, supply-chain issues, refugee flows, and climate change. These issues have all reinforced how inextricably interconnected the region is now. Thus, one of my priorities is to build upon our strengths in Northeast Asia by deepening the study of South and Southeast Asia and drawing linkages across the subregions. Moreover, while we'll continue to highlight our traditional fortes in security and foreign policy, we'll also deepen our coverage of disinformation and media, democracy and authoritarianism, climate change, political economics, and cultural change.

With ten cohorts of students in our Master's in Asian Studies Program, we now have an incredible community of passionate and knowledgeable experts of Asia. I have had the privilege to have gotten to know all but the first cohort and know that our biggest strength is this community. I believe we have a real opportunity to further strengthen this community and make it even more of a resource for our alumni and current students. Thus, I hope to support more ways of engaging the alumni both in the US and in Asia so our alumni and students can continue to connect with each other and learn from each other.