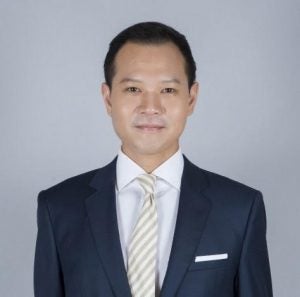 The Asian Studies Program of Georgetown University's Walsh School of Foreign Service is pleased to welcome Dennis W. H. Kwok as a non-resident Distinguished Scholar. Mr. Kwok, a barrister by profession, is known widely as an advocate for democracy, human rights, and the rule of law in Hong Kong. He was a founding member of the Civic Party and a member of the Legislative Council (LegCo) representing the legal constituency from 2012 to 2020. As a Distinguished Scholar at Georgetown University, Mr. Kwok will give lectures and hold roundtable discussions on democratic governance and the rule of law in Hong Kong and in the wider Asia-Pacific region.
During his time in office, Mr. Kwok focused on advancing access to justice, human rights protection, and the independence of the judiciary in Hong Kong. He served as Deputy Chairman of the LegCo Panel on the Administration of Justice, overseeing the development of legal policy issues, including the independence of prosecution decisions, the development of the legal profession, and legal education.
Mr. Kwok led the campaign in combatting international human trafficking and better protection and fairer treatment for refugees in Hong Kong. Among other accomplishments, he co-sponsored a private members' bill to combat international human trafficking and modern slavery. Modeled on the Modern Slavery Act of the United Kingdom, the Bill also contains legal provisions to enhance anti-money laundering regulations to freeze illicit proceeds generated by the modern slave trade. In addition, Mr. Kwok and others lobbied the Hong Kong Stock Exchange to enhance their environmental, social, and governance (ESG) disclosure requirements. As of July 1, 2020, new rules required listed companies to examine their supply chains for forced or unfair labor practices.
"We are delighted that our students and faculty will be able to engage with Dennis on critical issues of foreign policy, democracy, and rule of law impacting Hong Kong and the region more broadly," said Dr. Michael Green, Director of the Asian Studies Program and Chair in Contemporary Japanese Politics and Foreign Policy.
While serving in the LegCo, Mr. Kwok was actively engaged in international advocacy work for Hong Kong's democratic movement. Mr. Kwok was one of the principal opponents of the 2019 extradition bill proposed by the Hong Kong government. He frequently travelled to the United States and Europe to advocate for Hong Kong and its democratic cause, presenting the issue to government officials, politicians, and NGOs. Mr. Kwok's speaking engagements included the Asia Society, the United Nations Business and Human Rights Forum, and Georgetown University, where he spoke about the 2019 Hong Kong protests for an event co-sponsored by the Asian Studies Program and the U.S.-China Dialogue on Global Issues.
"I am honored to be invited back to Georgetown by Dr. Green to share my experience from Hong Kong law and politics," said Mr. Kwok. "The Hong Kong experience taught us that the sustainability of the rule of law is ultimately tied to a democratic model of governance."
In his private legal practice, Mr. Kwok specializes in cross-border commercial disputes and international arbitration. He obtained his LL.B. from King's College London. Mr. Kwok is qualified as a solicitor in England and Wales and as a barrister in Hong Kong. He is the recipient of the 2021 Commonwealth Law Conference Rule of Law Award bestowed by the Commonwealth Lawyers Association. Mr. Kwok is currently also a resident Senior Fellow at the Harvard Kennedy School, Ash Center for Democratic Governance and Innovation.